The information below was correct as at 01/09/2021
Now that the students have returned to school, parents, understandably have many questions and concerns. We have created a Covid FAQ list below and further information about what to do if you or your child has symptoms of Covid-19.
What are the arrangements for testing students over the summer?
Over the summer students and staff involved in the summer school will be provided with tests for twice-weekly asymptomatic testing. However, if your child is not attending then testing will still be widely available over the summer and kits can be collected from pharmacies or ordered online.
When does my child return to the academy in September?
We have had to stagger the return of students to allow for them to be tested in line with Government guidance. Wednesday 1st and Thursday 2nd September are staff INSET days. We will open on Friday to just Year 7 while we continue to test the rest of the year groups. The academy will open to everyone on Monday 6th September. Students should be on site no later than 8.35am.
Wednesday 1st September: Staff INSET – No students in the academy except for those testing
Thursday 2nd September: Staff INSET – No students in the academy except for those testing
Friday 3rd September: Year 7 only in the academy at 8.35, except for those testing
Monday 6th September: All students in the academy at 8.35
What are the arrangements for testing students when they return in September?
The Government announced last week that they want all secondary age students to test twice on their return to school. Once before they return to classes, and then a second test 3-5 days later when they have been already been in lessons. This is the same arrangement as when students returned in March. We will contact you again in late August giving a specific time for your child to get tested. The first test will simply require the student to come to the academy, get tested and then return home. The second test will be done during a normal school day and students will simply leave lessons to be tested.
This is when the year group have their first test, not when they return to lessons:
Wednesday 1st September
| | |
| --- | --- |
| 9.00 – 10.30 | Year 7, surname A–C |
| 10.30 – 12.00 | Year 7, surname D–J |
| 12.30 – 14.00 | Year 7, surname K–Q |
| 14.00 – 15.30 | Year 7, surname R–Z |
Thursday 2nd September
| | |
| --- | --- |
| 9.00 – 10.30 | Year 8, surname A–J |
| 10.30 – 12.00 | Year 8, surname K–Z |
| 12.30 – 14.00 | Year 9, surname A–J |
| 14.00 – 15.30 | Year 9, surname K–Z |
Friday 3rd September
| | |
| --- | --- |
| 9.00 – 10.30 | Year 10, surname A–J |
| 10.30 – 12.00 | Year 10, surname K–Z |
| 12.30 – 14.00 | Year 11, surname A–J |
| 14.00 – 15.30 | Year 11, surname K–Z |
Students will be tested a second time in the week commencing 6th September.
What are the arrangements for continued testing once the students are back in the academy?
The current guidance states that students will continue with twice-weekly home testing for all of September by which point the policy will have been reviewed by the Government.
What happens if a student tests positive?
If a student has symptoms (please click here for guidance on symptoms: https://www.nhs.uk/conditions/coronavirus-covid-19/symptoms/) they should not come into the academy. They should instead get a PCR test. If a student tests positive they should inform the academy and then isolate for ten days. The rest of the household should also isolate unless they are fully vaccinated or under the age of 18. If a student develops symptoms during the academy day, they will be sent home to be book a PCR test. Work will continue to be uploaded onto Google Classroom. Free school sandwich meal packages will be delivered whilst Free School Meal students are isolating. Positive cases will be recorded as an authorised absence.
Please click on the below flow chart for further advice.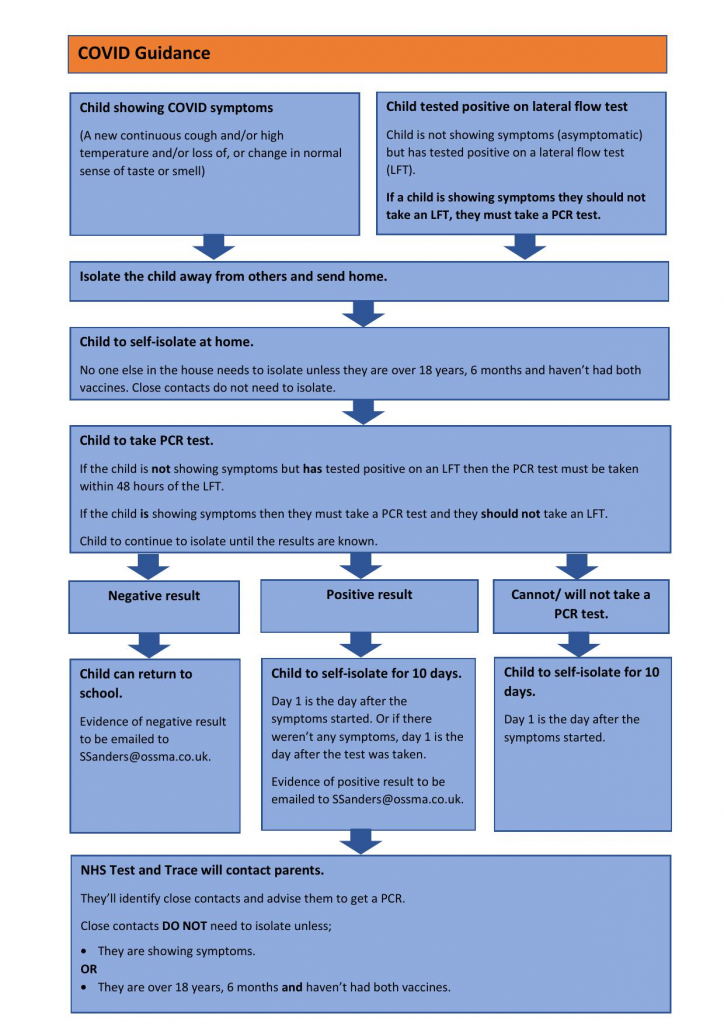 Can my child still be identified as a close contact?
From the 16th August children under the age of 18 will no longer be required to isolate if they are contacted by the NHS Test and Trace team. They will instead be asked to get a PCR test. The academy is no longer required to track and trace any close contacts. This means that only the student who has tested positive would be sent home, not close contacts.
Will students still be in year group or class bubbles in September?
No. Students will no longer be in bubbles in September.
Does this mean all students will move around the building between lessons to access different classrooms?
Yes. All students will be to access all the facilities and the previous restrictions regarding movement around the building that was introduced last September will be removed.
Will my child have to wear a face covering in September?
No. Face coverings are no longer advised for pupils, staff or visitors but students and staff can wear them if they wish. However, if the academy suffers an outbreak the Director of Public Health may decide that the wearing of face coverings and the use of bubbles may temporarily be reintroduced.
What will the academy do if there is an outbreak of cases?
The academy is developing an outbreak management plan that would lead to the reintroduction of mitigation measures such as face coverings. This would be done in consultation and at the request of Public Health England.
What control measures are the academy keeping in place to help prevent the spread of Covid?
Hand hygiene – students will be able to sanitise their hands as they enter every classroom
Enhanced cleaning regimes – the academy will continue to employ additional cleaning capacity so that areas and equipment are cleaned frequently.
Ventilation – the academy is fortunate to have a modern ventilation system. We will continue to keep doors and windows open where appropriate
Testing – we will continue to provide testing kits for twice-weekly asymptomatic testing at home. We will continue with our procedures for dealing with positive cases.
Will the start and end of the day be staggered as it has this year?
All students will be expected to be on the academy grounds no later than 8.40am. This will allow registration to begin in classrooms at 8.45am. Students will leave the academy at 3.15pm, although we will allow Year 7 and 8 to exit the building 2 minutes earlier than the rest of the students. We have found that a staggered end to the day helps ease the congestion as students leave.
Will students have to enter and exit via the same entrances?
Year groups will continue to use different entrances in the morning. Year 7 and Year 8 will use the traditional entrance by Reception. Year 9 and 10 will use the new entrance gate next to the car park and Year 11 will enter via the community entrance.
At the end of the day, students will exit either from the gates by Reception, or the gates by the car park depending on where they are in the building during their final lesson of the day. This will also ensure that 1000+ students do not leave by the same exit at the same time.
Will there continue to be separate yards for separate year groups at breaks and lunches?
Yes. Feedback from the students suggests that they much prefer being able to go to an area in which only students from their year group are allowed to go. There are other areas where year groups will mix, such as the Bistro. Students will be able to eat and mix in the Bistro as they did before the pandemic.
How can my child purchase food?
As long as the student has money on their Parent Pay account they can purchase the food of their choice in the Bistro at break and lunchtime using the fingerprint scanners. Students no longer need to pre-order food. They can buy whatever they like from the menu on offer each day. This would be the same as the arrangements pre-Covid.
Will there be a breakfast club serving free breakfast for the students?
Yes. This service will be resuming in September. Students will be able to access the Bistro from 7.45 in the morning. The free food is provided by the Magic Breakfast charity.
Will a full range of before and after school activities begin again in September?
Yes. Students will receive a full timetable of these activities and will have the opportunity to take part in them. This may involve mixing with students from other year groups.
Have there been any changes to the school day/timetable?
The timings of the school day have returned to what they were pre Covid and can be found on our Academy Day page.
When will my child get their timetable?
Students will be given their timetable on their first day back in the academy.
Has the uniform changed?
No. The uniform requirements are exactly the same and can be found on our Uniform Page.